Apologies to have disappeared and the delay in posting a new article.
Today, we will discuss about some of the equity ideas and focus on the market condition as a whole. Words like "Fed Rate", "Recession", "Oil prices", "US/China tension" and others have been used negatively after a "big" drop in the Dow last Thursday (11/10/2018).
What we saw was a mere correction of the booming tech stocks that have been racing towards the "trillion dollar" market cap. Companies like Apple, Amazon have already entered the "Trillion Dollar Club"; Google and Microsoft to follow. As it is seen from our past experience(s) of Great Financial Crisis (2008), Asian Financial Crisis (1997), Depression of 1987, The Great Depression of 1929; we know that whatever races up has to come down. The Cryptocurrency market is a great recent example of this theory. We will see what has happened last week, in detail.
Secondly, the seemingly little concern of the Fed Reserve to increase of interest rate has contributed to the rapid growth in the US Equities lately.
Now, the rising trade tension between the U.S and Chinese governments on the global economy has hit the stock market outside the U.S. hardest. In addition to that, IMF, last week, lowered its global growth forecasts for this year and 2019, which has served as a catalyst to the bearishness in the market.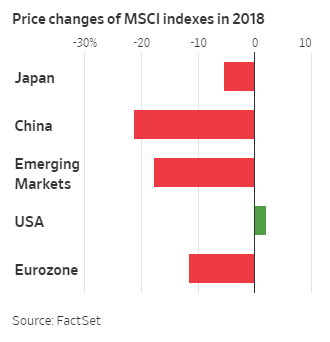 U.S market has outperformed the global markets, as seen in the image above. In the U.S., the biggest internet and consumer stocks like, Netfix Inc. (+77%), Amazon.com Inc. (+53%), and Apple Inc. (+31%) for the year, even after the recent selloffs. Last week, tech and consumer stocks like Netflix Inc. and Amazon.com Inc. accounted for around half of the entire fall in U.S. stocks since September 20, according to various analysts.
Chinese tech giants like Baidu Inc. and Alibaba Group Holding Ltd., both of which are listed in the U.S., are down 13% and 15% respectively for the year. U.S. listed Chinese e-commerce giant JD.com Inc. has lost 41% of it's market value this year.
The ratcheting of the U.S.-China trade dispute in recent weeks has renewed scrutiny of the global technology supply chain. This has led to the rise of potential vulnerabilities and security risks that it entails has been one of the main reasons hurting the U.S. tech stocks lately.
You can follow the in-depth discussion on the "trade war" here.